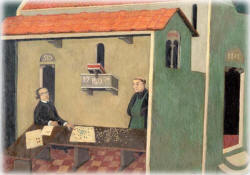 The picture is a detail from Gregor Mendel counting green and yellow peas in the Augustinian Abbey at Brno. It was painted in the early renaissance style by my friend and long-time colleague Phibus Matile. You will see his name as a co-author on many of the publications listed below. Phibus died in his 80th year on 29 October 2011. He was a brilliant, cultured, amusing, talented, unique man and will be greatly missed.

Copies of many of the papers listed are available as pdf downloads. Click on the index number if it's underlined.

Click on the button for papers
152 H Thomas, J E Archer, R Marggraf Turley. 2014. Remembering darnel, a forgotten plant of literary, religious and evolutionary significance. Journal of Ethnobiology (under review)
151 J E Archer, R Marggraf Turley, H Thomas. 2014. "Soper at oure aller cost": the politics of food supply in the Canterbury Tales. Chaucer Review (in press)
150 J E Archer, R Marggraf Turley, H Thomas. 2014. Reading Shakespeare with the grain: sustainability and the hunger business. Green Letters 19: 8-20
149 YH Chew, B Wenden, A Flis, V Mengin, J Taylor, CL Davey, C Tindal, H Thomas, H J Ougham, P de Reffye, M Stitt, M Williams, R Muetzelfeldt, K J Halliday, A J Millar. 2014. A multi-scale digital Arabidopsis predicts individual organ and whole-organism growth. PNAS 111: E4127-E4136
148 J Archer, R Marggraf Turley, H Thomas. 2014. Food and the Literary Imagination. London: Palgrave
147 H Thomas, H Ougham. 2014. The stay-green trait. Journal of Experimental Botany 65: 3889-3900
146 H Thomas, H Ougham. 2015. Senescence and crop performance. In: Crop Physiology. Applications for Genetic Improvement and Agronomy. 2nd edition (eds VO Sadras, DF Calderini). pp. 223-249. London, Waltham, San Diego: Academic Press
145 JE Archer, H Thomas, R Marggraf Turley. 2014. "Moving accidents by flood and field": the arable and tidal worlds of George Eliot's The Mill on the Floss. English Literary History (in press)
144. JE Archer, R Marggraf Turley, H Thomas. 2013. Reading with the Grain: Sustainability and the Literary Imagination. INSPIRE-ASLE-UKI Essay Competition Winner (publication forthcoming)
143. H Thomas. 2013. 'Cultivating Common Ground': a participant's perspective. In: R Crossland. Cultivating common ground: interdisciplinary approaches to biological research. New Phytologist 197: 362-365
142. R Marggraf Turley, JE Archer, H Thomas. 2012. On St Giles Hill. Keats's Ode 'to Autumn' in the Market. Times Literary Supplement No. 5723 (5 December 2012) pp 14-15
141. H Thomas. 2013. Senescence, ageing and death of the whole plant. New Phytologist 197: 696–711
140. R Marggraf Turley, H Thomas, JE Archer. 2012. Keats, 'To Autumn', and the New Men of Winchester. Review of English Studies 63: 797-817
139. H Thomas. 2012. Plant senescence. In: Biological Science Fundamentals and Systematics (Eds. A Minelli, G Contrafatto). Encyclopedia of Life Support Systems (EOLSS), Developed under the Auspices of the UNESCO, Eolss Publishers, Oxford ,UK, [http://www.eolss.net]
138. RL Jones, H Ougham, H Thomas, SD Waaland. 2012. The Molecular Life of Plants. NJ, Chichester: Wiley
137. JE Archer, H Thomas, R Marggraf Turley. 2012. The Autumn King: remembering the land in King Lear. Shakespeare Quarterly 63: 518-543
136. PRH Robson, R Kelly, EF Jensen, GD Giddings, M Leitch, C Davey, AP Gay, G Jenkins, H Thomas, IS Donnison. 2011. A flexible quantitative methodology for the analysis of gene-flow between conventionally-bred maize populations using microsatellite markers. Theoretical and Applied Genetics 122:819–829
135. J Raven, H Thomas. 2010. Quick guide: grasses. Current Biology 20: R837-R839
134. LAJ Mur, S Aubry, M Mondhe, A Kingston-Smith, J Gallagher, E Timms-Taravella, C James, I Papp, S Hörtensteiner, H Thomas, H Ougham. 2010. Accumulation of chlorophyll catabolites photosensitizes the hypersensitive response elicited by Pseudomonas syringae in Arabidopsis. New Phytologist 188: 161–174
133. H Thomas, J Archer, R Marggraf Turley. 2011. Evolution, physiology and phytochemistry of the psychotoxic arable mimic weed darnel (Lolium temulentum L). Progress in Botany 72: 73-104
132. C Davey, H Ougham, A Millar, H Thomas, C Tindal, R Muetzelfeldt. 2009. PlaSMo: Making existing crop and plant growth models easily available to the wider scientific and policy making communities. In: Integrated Agricultural Systems: Methodologies, Modelling and Measuring (Eds: MacLeod M et al). Association of Applied Biologists. Aspects of Applied Biology 93, 227
131. C Davey, H Ougham, A Millar, H Thomas, C Tindal, R Muetzelfeldt. 2009. PlaSMo: Making existing plant and crop mathematical models available to plant systems biologists. Comparative Biochemistry and Physiology volume 153A (No2 suppl).
130. R Marggraf Turley, H Thomas, J E Archer. 2010. A tragedy of idle weeds. Times Literary Supplement No. 5577 (19 February 2010) pp 14-15.
129. RN Jones, H Ougham, H Thomas, I Pašakinskienė. 2009. Markers and mapping revisited: finding your gene. New Phytologist 183: 935-966
128. H Thomas. 2010. Leaf senescence and autumn leaf coloration. McGraw Hill 2010 Yearbook of Science and Technology pp 211-214
127. RN Jones, H Thomas. 2009. Genome restructuring in hybrids – a marriage of inconvenience. In: Genetyka i genomika w doskonaleniu roslin uprawnych (Genetics and genomics in crop plant improvement: from a model plant to a new cultivar. Eds B Naganowska, P Kachlicki, P Krajewski) pp 11-28. Poznan, Poland: Instytut Genetyki Roslin PAN w Poznaniu.
126. H Thomas, H Ougham, LAJ Mur, S Jansson. 2014. Senescence and programmed cell death. In: Biochemistry and Molecular Biology of Plants. 2nd edition (eds B Buchanan, W Gruissem, R Jones). NY: Wiley (forthcoming)
125. H Thomas, L Huang, M Young, H Ougham. 2009. Evolution of plant senescence. BMC Evolutionary Biology 9:163 (doi:10.1186/1471-2148-9-163)
124. M Archetti, TF Döring, SB Hagen, NM Hughes, SR Leather, DW Lee, S Lev-Yadun, Y Manetas, HJ Ougham, PG Schaberg, H Thomas. 2009. Unravelling the evolution of autumn colours - an interdisciplinary approach. Trends in Ecology and Evolution 24: 166-173
123. M Archetti, TF Döring, SB Hagen, NM Hughes, SR Leather, DW Lee, S Lev-Yadun, Y Manetas, HJ Ougham, PG Schaberg, H Thomas. 2009. Response to Sinkkonen: Ultraviolet reflectance in autumn leaves and the un-naming of colours. Trends in Ecology and Evolution 24: 237-238
122. H Ougham, H Thomas, Archetti M. 2008. Origin and evolution of autumn colours. New Phytologist 179: 9-13
121. A Gay, H Thomas, M Roca, C James, J Taylor, J Rowland, H Ougham. 2008. Non-destructive analysis of senescence in mesophyll cells by spectral resolution of protein synthesis-dependent pigment metabolism. New Phytologist 179: 663–674
120. H Ougham, S Hörtensteiner, I Armstead, I Donnison, I King, H Thomas L Mur. 2008. The control of chlorophyll catabolism and the status of yellowing as a biomarker of leaf senescence. Plant Biology 10 (supplement 1): 4-14
119. S Jansson, H Thomas. 2008. Senescence: developmental program or timetable? New Phytologist 179: 575–579
118. H Thomas. 2008. Systems Biology and the Biology of Systems: how, if at all, are they related? New Phytologist 177: 11-15
117. I Armstead, Lin Huang, J King, H Ougham, H Thomas, I King. 2007. Rice pseudomolecule-anchored cross-species DNA sequence alignments indicate regional genomic variation in expressed sequence conservation. BMC Genomics 8: 283
116. H Thomas. 2007. Plastid senescence. Part 9 in KJ Hoober (ed) The chloroplast: the organelle that sustains us. Henry Stewart Talks Series (http://www.hstalks.com/chloro/)
115. J King, IP Armstead, IS Donnison, JA Harper, LA Roberts, H Thomas, H Ougham, A Thomas, L Huang, IP King. 2007. Introgression mapping in the grasses. Chromosome Research 15: 105-113
114 H Ougham, I Armstead, C Howarth, I Galyuon, I Donnison, H Thomas. 2007. The genetic control of senescence revealed by mapping quantitative trait loci. Annual Plant Reviews 26: 171-201
113. I Armstead, I Donnison, S Aubry, J Harper, S Hörtensteiner, C James, J Mani, M Moffet, H Ougham, L Roberts, A Thomas, N Weeden, H Thomas, I King. 2007. Cross-species identification of Mendel's I locus. Science 315: 73
112. IS Donnison, AP Gay, H Thomas, KJ Edwards, D Edwards, CL James, AM Thomas, HJ Ougham. 2007. Modification of nitrogen remobilisation, grain fill and leaf senescence in maize (Zea mays L.) by transposon insertional mutagenesis in a protease gene. New Phytologist 173: 481–494
111. I Armstead, I Donnison, S Aubry, J Harper, S Hörtensteiner, C James, J Mani, M Moffet, H Ougham, L Roberts, A Thomas, N Weeden, H Thomas, I King. 2006. From crop to model to crop: identifying the genetic basis of the staygreen mutation in the forage grass Festuca pratensis (Huds.) New Phytologist 172: 592-597
110. I Donnison, D O'Sullivan, A Thomas, P Canter, B Moore, I Armstead, H Thomas, K Edwards, I King. 2005. Construction of a Festuca pratensis BAC library for map-based cloning in Festulolium substitution lines. Theoretical and Applied Genetics 110: 846-851
109. HJ Ougham, P Morris, H Thomas. 2005. The colors of autumn leaves as symptoms of cellular recycling and defenses against environmental stresses. Current Topics in Developmental Biology 66: 135-160
108. PH Canter, H Thomas, E Ernst. 2005. Bringing medicinal plants into cultivation: opportunities and challenges for biotechnology. Trends in Biotechnology 23: 180-185
107. BJ Moore, I Donnison, JA Harper, IP Armstead, J King, H Thomas, RN Jones, TH Jones, HM Thomas, WG Morgan, A Thomas, HJ Ougham, L Huang, PA Fentem, LA Roberts, IP King. 2005. Molecular tagging of a senescence gene by introgression mapping of a mutant stay-green locus from Festuca pratensis. New Phytologist 165: 801-806
106. AH Kingston-Smith, RJ Merry, DK Leemans, H Thomas, MK Theodorou. 2005. Evidence in support of a role for plant-mediated proteolysis in the rumens of grazing animals. British Journal of Nutrition 93: 73-79
105. M Roca, C James, A Pružinská, S Hörtensteiner, H Thomas, H Ougham. 2004. Analysis of the chlorophyll catabolism pathway in leaves of an introgression senescence mutant of Lolium temulentum. Phytochemistry 65: 1231-1238
104. PRH Robson, IS Donnison, Kan Wang, B Frame, SEl Pegg, A Thomas, H Thomas. 2004. Leaf senescence is delayed in maize expressing the Agrobacterium IPT gene under the control of a novel maize senescence-enhanced promoter. Plant Biotechnology Journal 2: 101-112
103. Q Li, PRH Robson, AJE Bettany, TLW Carver, IS Donnison, H Thomas, IM Scott. 2004. Modification of senescence in ryegrass transformed with IPT under the control of a monocot senescence-enhanced promoter. Plant Cell Reports 22: 816-821
102. H Thomas. 2003. Do green plants age and if so how? Topics in Current Genetics 3: 145-171
101. H Thomas, HJ Ougham, C Wagstaff, AJ Stead. 2003. Defining senescence and death. Journal of Experimental Botany 54: 1127-1132
100. JH Macduff, MO Humphreys, H Thomas. 2002. Effects of a stay-green mutation on plant nitrogen relations in Lolium perenne L. during N starvation and after defoliation. Annals of Botany 89: 11-21
099. H Thomas, H Ougham, P Canter, I Donnison. 2002. What stay-green mutants tell us about nitrogen remobilisation in leaf senescence. Journal of Experimental Botany 53: 801-808
098. H Thomas. 2002. Ageing in plants. Mechanisms of Ageing and Development 123: 747-753
097. H Thomas, H Ougham, S Hörtensteiner. 2001. Recent advances in the cell biology of chlorophyll catabolism. Advances in Botanical Research 35: 1-52
096. A M Jones, S Coimbra, A Fath, M Sottomayer, H Thomas. 2001. Programmed cell death assays for plants. In: Methods in Cell Biology: Cell Death, Second Edition (ed L Schwartz, J Ashwell) 66: 437-451. San Diego: Academic Press
095. H Thomas, V O Sadras. 2001. The capture and gratuitous disposal of resources by plants. Functional Ecology 15: 3-12
094. H Thomas, I Donnison. 2000. Back from the brink: plant senescence and its reversibility. In: Programmed Cell Death in Animals and Plants (eds J Bryant, S G Hughes, J M Garland) pp 149-162. Oxford: Bios
093. H Thomas, H M Thomas, H Ougham. 2000. Annuality, perenniality and cell death. Journal of Experimental Botany 51: 1-8
092. Q Li, A J E Bettany, I Donnison, C M Griffiths, H Thomas, I M Scott. 2000. Characterisation of a cysteine protease cDNA from Lolium multiflorum (Lam.) leaves and its expression during senescence and cytokinin treatment. Biochimica et Biophysica Acta 1492: 233-236
091. S Hörtensteiner, J Chinner, P Matile, H Thomas, I S Donnison. 2000. Chlorophyll breakdown in Chlorella protothecoides: characterization of degreening and cloning of degreening related genes. Plant Molecular Biology 42: 439-450
090. T Langdon, C Seago, M Mende, J M Legget, H M Thomas, J W. Forster, H Thomas, R N Jones, G Jenkins.. 2000. Retrotransposon evolution in diverse plant genomes. Genetics 156: 313-325
089. J L Dangl, RA Dietrich, H Thomas. 2000. Senescence and programmed cell death. In: Biochemistry and Molecular Biology of Plants (eds B Buchanan, W Gruissem, R Jones) pp 1044-1100. Rockville: ASPP
088. H Thomas, C J Howarth. 2000. Five ways to stay green. Journal of Experimental Botany 51: 329-337
087. T Langdon, C Seago, R N Jones, H J Ougham, H Thomas, J W Forster, G Jenkins. 2000. De novo evolution of satellite DNA on the rye B chromosome. Genetics 154: 869-884
086. W-Y Zhu, A H Kingston-Smith, D Troncoso, R J Merry, D R Davies, G Pichard, H Thomas, M K Theodorou. 1999. Evidence in favour of plant-mediated proteolysis in the rumen. Journal of Dairy Science 82: 1-8
085. H A Zavaleta-Mancera, B J Thomas, H Thomas, I M Scott. 1999. Regreening of senescent Nicotiana leaves. II. Redifferentiation of plastids. Journal of Experimental Botany 50: 1683-1689
084. H A Zavaleta-Mancera, K A Franklin, H J Ougham, H Thomas, I M Scott. 1999. Regreening of senescent Nicotiana leaves. I. Reappearance of NADPH-protochlorophyllide oxidoreductase and light-harvesting chlorophyll a/b-binding protein. Journal of Experimental Botany 50: 1677-1682
083. H Thomas, W G Morgan, A M Thomas, H J Ougham. 1999. Expression of the stay-green character introgressed into Lolium temulentum Ceres from a senescence mutant of Festuca pratensis. Theoretical and Applied Genetics 99: 92-99
082. P Matile, S Hörtensteiner, H Thomas. 1999. Chlorophyll degradation. Annual Review of Plant Physiology and Plant Molecular Biology 50: 67-95
081. H Thomas. 1998. Air today - gone tomorrow. New Phytologist 139: 225-229
080. A H Kingston-Smith, H Thomas, C H Foyer. 1997. Chlorophyll a fluorescence, enzyme and antioxidant analysis provide evidence for the operation of an alternative electron sink during leaf senescence in a stay-green mutant of Festuca pratensis. Plant Cell and Environment 20: 1323-1337
079. R N Jones, H J Ougham, H Thomas. 1997. Markers and mapping; we are all geneticists now. New Phytologist 137: 165-177
078. H Thomas, C Evans, H M Thomas, M W Humphreys, G Morgan, B Hauck, I Donnison. 1997. Introgression, tagging and expression of a leaf senescence gene in Festulolium. New Phytologist 137: 29-34
077. S Rodoni, W Mühlecker, M Anderl, B Kräutler, D Moser, H Thomas, P Matile, S Hörtensteiner. 1997. Chlorophyll breakdown in senescent chloroplasts. Cleavage of phaeophorbide a in two enzymic steps. Plant Physiology 115: 669-676
076. B Hauck, A P Gay, J Macduff, C M Griffiths, H Thomas. 1997. Leaf senescence in a non-yellowing mutant of Festuca pratensis: implications of the stay-green mutation for photosynthesis, growth and nitrogen nutrition. Plant Cell and Environment 20: 1007-1018
075. C M Griffiths, S E Hosken, D Oliver, J Chojecki, H Thomas. 1997. Sequencing, expression pattern and RFLP mapping of a senescence-enhanced cDNA from Zea mays with high homology to oryzain γ and aleurain. Plant Molecular Biology 34: 815-821
074. H Thomas. 1997. Chlorophyll: a symptom and a regulator of plastid development. New Phytologist 136: 163-181
073. P Matile, S Hörtensteiner, H Thomas, B Kräutler. 1996. Chlorophyll breakdown in senescent leaves. Plant Physiology 112: 1403-1409
072. H Thomas, L de Villiers. 1996. Gene expression in rosette leaves of Arabidopsis thaliana induced to senesce by nutrient deprivation. Journal of Experimental Botany 47: 1845-1852
071. H Thomas, M Schellenberg, F Vicentini, P Matile. 1996. Gregor Mendel's green and yellow pea seeds. Botanica Acta 109: 3-4
070. K Morris, H Thomas, L J Rogers. 1996. Endopeptidases during the development and senescence of Lolium temulentum leaves. Phytochemistry 41: 377-384
069. A P Gay, H Thomas. 1995. Leaf development in Lolium temulentum: photosynthesis in relation to growth and senescence. New Phytologist 130: 159-168
068. H Thomas, J L Stoddart. 1995. Temperature sensitivities of Festuca arundinacea and Dactylis glomerata ecotypes. New Phytologist 130: 125-134
067. F Vicentini, S Hörtensteiner, M Schellenberg, H Thomas, P Matile. 1995. Chlorophyll breakdown in senescent leaves: identification of the biochemical lesion in a stay-green genotype of Festuca pratensis Huds. New Phytologist 129: 247-252
066. C Smart, S Hosken, H Thomas, J Greaves, B Blair, W Schuch. 1995. The timing of maize leaf senescence and characterisation of senescence-related cDNAs. Physiologia Plantarum 93: 673-682
065. B Biswal, LJ Rogers, AJ Smith, H Thomas. 1994. Carotenoid composition and its relationship to chlorophyll and D1 protein during leaf development in a normally senescing cultivar and a stay-green mutant of Festuca pratensis. Phytochemistry 37: 1257-1262
064. A Bachmann, J Fernández-López, S Ginsburg, H Thomas, J C Bouwkamp, T Solomos, P Matile. 1994. Stay-green genotypes of Phaseolus vulgaris. Chloroplast proteins and chlorophyll catabolites during foliar senescence. New Phytologist 126: 593-600
063. H Thomas. 1994. Aging in the plant and animal kingdoms - the role of cell death. Reviews in Clinical Gerontology 4: 5-20
062. H Thomas, C M Smart. 1993. Crops that stay green. Annals of Applied Biology 123: 193-219
061. M Schellenberg, P Matile, H Thomas. 1993. Production of a presumptive chlorophyll catabolite in vitro: requirement for reduced ferredoxin. Planta 191: 417-420

060. H Thomas, U Feller. 1993. Leaf development in Lolium temulentum: differential susceptibility of transaminase isoenzymes to proteolysis. Journal of Plant Physiology 142: 37-42
059. T Mae, H Thomas, A P Gay, A Makino, J Hidema. 1993. Leaf development in Lolium temulentum: photosynthesis and photosynthetic proteins in leaves senescing under different irradiances. Plant and Cell Physiology 34: 391-399
058. L P Nock, L J Rogers, H Thomas. 1992. Metabolism of protein and chlorophyll in leaf tissue of Festuca pratensis Huds. during chloroplast assembly and senescence. Phytochemistry 31: 1465-1470
057. H Thomas, H J Ougham, T G E Davies. 1992. Leaf senescence in a non yellowing mutant of Festuca pratensis: transcripts and translation products. Journal of Plant Physiology 139: 403-412
056. T G E Davies, L J Rogers, B J Thomas, H Thomas. 1990. Leaf development in Lolium temulentum: formation of the photosynthetic apparatus in the presence of the porphyrin synthesis inhibitor gabaculine. Journal of Experimental Botany 41: 905-917
055. T G E Davies, H Thomas, B J Thomas, L J Rogers. 1990. Leaf senescence in a non yellowing mutant of Festuca pratensis: metabolism of cytochrome f. Plant Physiology 93: 588-595
054. M Schellenberg, P Matile, H Thomas. 1990. Breakdown of chlorophyll in chloroplasts of senescent barley leaves depends on ATP. Journal of Plant Physiology 136: 564-568
053. C Peisker, H Thomas, F Keller, P Matile. 1990. Radiolabelling of chlorophyll for studies on catabolism. Journal of Plant Physiology 136: 544-549
052. H Thomas. 1990. Leaf development in Lolium temulentum: protein metabolism during development and senescence of attached and excised leaf tissue. Journal of Plant Physiology 136: 45-50
051. T G E Davies, H Thomas, L J Rogers. 1990. Immunological quantification of cytochrome f in leaves of a non yellowing senescence mutant of Festuca pratensis. Photosynthesis Research 24: 99-108

050. P Matile, T Duggelin, M Schellenberg, D Rentsch, K Bortlik, C Peisker, H Thomas. 1989. How and why is chlorophyll broken down in senescent leaves? Plant Physiology and Biochemistry 27: 595-604
049. T G E Davies, L J Rogers, H Thomas. 1989. Purification and antigenicity of cytochrome f from meadow fescue, Festuca pratensis Huds. and cross reactivity of the antibodies with the protein from other plant species. Plant Physiology and Biochemistry 27: 889-898
048. A Thomas, A D Tomos, J L Stoddart, H Thomas, C J Pollock. 1989. Cell expansion rate, temperature and turgor pressure in growing Lolium temulentum leaves. New Phytologist 112: 1–5
047. P Hilditch, H Thomas, K Lucas. 1989. Kinetic implications of structural modification in protein turnover. BioSystems 22: 241–248
046. P Hilditch, H Thomas, B J Thomas, L J Rogers. 1989. Leaf senescence in a non yellowing mutant of Festuca pratensis: proteins of Photosystem II. Planta 177: 265–272
045. H Thomas, K Bortlik, D Rentsch, M Schellenberg, P Matile. 1989. Catabolism of chlorophyll in vivo: significance of polar chlorophyll catabolites in a non yellowing senescence mutant of Festuca pratensis. New Phytologist 111: 3–8
044. T G E Davies, H J Ougham, H Thomas, L J Rogers. 1989. Leaf development in Lolium temulentum L.: plastid membrane polypeptides in relation to assembly of the photosynthetic apparatus and leaf growth. Physiologia Plantarum 75: 47–54
043. P Matile, S Ginsburg, M Schellenberg, H Thomas. 1988. Catabolites of chlorophyll in senescing barley leaves are localized in the vacuoles of mesophyll cells. Proceedings of the National Academy of Sciences, USA 85: 9529–9532
042. T Duggelin, K Bortlik, H Gut, P Matile, H Thomas. 1988. Leaf senescence in Festuca pratensis: accumulation of lipofuscin like compounds. Physiologia Plantarum 74: 131–136
041. H Thomas, P Matile. 1988. Photobleaching of chloroplast pigments in leaves of a non yellowing mutant genotype of Festuca pratensis. Phytochemistry 27: 345–348
040. H Thomas. 1987. Sid: a Mendelian locus controlling thylakoid membrane disassembly in senescing leaves of Festuca pratensis. Theoretical and Applied Genetics 73: 551–555
039. P Matile, S Ginsburg, M Schellenberg, H Thomas. 1987. Catabolites of chlorophyll in senescent leaves. Journal of Plant Physiology 129: 219–228
038. H Gut, C Rutz, P Matile, H Thomas. 1987. Leaf senescence in a non yellowing mutant of Festuca pratensis: degradation of carotenoids. Physiologia Plantarum 70: 659–663
037. H J Ougham, H Thomas, P Hilditch. 1987. Leaf development in Lolium temulentum L.: gradients of expression of growth and photosynthesis related polypeptides revealed by immunoblotting. Journal of Plant Physiology 129: 181–186
036. J L Stoddart, H Thomas. 1986. The use of microcomputers for general purpose laboratory data capture. Chemistry and Industry 26: 222–230
035. H Thomas. 1986. The role of polyunsaturated fatty acids in senescence. Journal of Plant Physiology 123: 97–105
034. J L Stoddart, H Thomas, E J Lloyd, C J Pollock. 1986. The use of a temperature profiled position transducer for the study of low temperature growth in Gramineae: equipment design and output interpretation. Planta 167: 359–363
033. P Hilditch, H Thomas, L J Rogers. 1986. Leaf senescence in a non yellowing mutant of Festuca pratensis: photosynthesis and photosynthetic electron transport. Planta 167: 146–151
032. B Luthy, P Matile, H Thomas. 1986. Properties of linolenic acid dependent chlorophyll oxidation in thylakoid membranes. Journal of Plant Physiology 123: 169–180
031. B Luthy, H Thomas, P Matile. 1986. Linolenic acid dependent "chlorophyll oxidase" activity: a property of Photosystems I and II. Journal of Plant Physiology 123: 203–209
030. P Hilditch, H Thomas, L J Rogers. 1986. Two processes for the breakdown of the QB protein of chloroplasts. FEBS Letters 208: 313–316
029. H Thomas, J F Potter. 1985. Fitting logistic type curves to extension growth data for leaves of grass species by means of the Maximum Likelihood Program: analysis of leaf extension in Lolium temulentum at optimal and chilling temperatures. Environmental and Experimental Botany 25: 157–163
028. H Thomas, B Luthy, P Matile. 1985. Leaf senescence in a non yellowing mutant of Festuca pratensis Huds. Oxidative chlorophyll bleaching by thylakoid membranes during senescence. Planta 164: 400–405
027. B Luthy, E Martinoia, P Matile, H Thomas. 1984. Thylakoid associated "chlorophyll oxidase": distinction from lipoxygenase. Zeitschrift fur Pflanzenphysiologie 113: 423–434
026. H Thomas, J J Rowland, J L Stoddart. 1984. A microprocessor based instrument for measuring plant growth. Journal of Microcomputer Applications. 7: 217–223
025. H Thomas, J L Stoddart. 1984. Kinetics of leaf growth in Lolium temulentum at optimal and chilling temperatures. Annals of Botany 53: 341–347
024. C J Pollock, E J Lloyd, H Thomas, J L Stoddart. 1984. Changes in photosynthetic capacity during prolonged growth of Lolium temulentum at low temperature. Photosynthetica 18: 478–481
023. C J Pollock, E J Lloyd, J L Stoddart, H Thomas. 1983. Growth, photosynthesis and assimilate partitioning in Lolium temulentum exposed to chilling temperatures. Physiologia Plantarum 59: 257–262
022. H Thomas. 1983. Leaf senescence in a non yellowing mutant of Festuca pratensis. IV. Senescence in the light. Photosynthetica 17: 506–514
021. H Thomas. 1983. Analysis of the response of leaf extension to chilling temperatures in Lolium temulentum seedlings. Physiologia Plantarum 57: 509–513
020. H Thomas. 1983. Analysis of the nitrogen response of leaf extension in Lolium temulentum seedlings. Annals of Botany 51: 363–371
019. J L Stoddart, H Thomas. 1982. Leaf senescence. Encyclopedia of Plant Physiology (New Series) 14A: 592–636
018. J L Harwood, A V H M Jones, H Thomas. 1982. Leaf senescence in a non yellowing mutant of Festuca pratensis. III. Total acyl lipids of leaf tissue during senescence. Planta 156: 152–157
017. H Thomas. 1982. Leaf senescence in a non yellowing mutant of Festuca pratensis. II. Proteolytic degradation of thylakoid and stroma polypeptides. Planta 154: 219–223
016. H Thomas. 1982. Leaf senescence in a non yellowing mutant of Festuca pratensis. I. Chloroplast membrane polypeptides. Planta 154: 212–218
015. H Thomas. 1982. A procedure for resolving overlapping curves suitable for use with a microcomputer. Analytical Biochemistry 120: 101–105
014. H Thomas, R C Huffaker. 1981. Hydrolysis of radioactively labelled ribulose 1,5 bisphosphate carboxylase by an endopeptidase from the primary leaf of barley seedlings. Plant Science Letters 20: 251–262
013. H Thomas, J L Stoddart. 1980. Leaf senescence. Annual Review of Plant Physiology 31: 83–111
012. H Thomas, J L Stoddart, J F Potter. 1980. Temperature responses of membrane associated activities from spring and winter oats. Plant Cell and Environment 3: 271–277
011. J A Pearson, K Thomas, H Thomas. 1978. Nucleic acids from leaves of a yellowing and a non yellowing variety of Festuca pratensis. Planta 144: 85–87
010. H Thomas. 1978. Enzymes of nitrogen mobilization in detached leaves of Lolium temulentum during senescence. Planta 142: 161–169
009. H Thomas, M J Bingham. 1977. Isoenzymes of naphthyl acetate esterase in senescing leaves of Festuca pratensis. Phytochemistry 16: 1887–1889
008. H Thomas. 1977. Ultrastructure, polypeptide composition and photochemical activity of chloroplasts during foliar senescence of a non yellowing mutant genotype of Festuca pratensis. Planta 137: 53–60
007. H Thomas. 1976. Delayed senescence in leaves treated with the protein synthesis inhibitor MDMP. Plant Science Letters 6: 369–377
006. H Thomas, J L Stoddart. 1975. Separation of chlorophyll degradation from other senescence processes in leaves of a mutant genotype of meadow fescue (Festuca pratensis). Plant Physiology 56: 438–441
005. H Thomas. 1975. Regulation of alanine aminotransferase in leaves of Lolium temulentum during senescence. Zeitschrift fur Pflanzenphysiologie 74: 208–212
004. H Thomas, J L Stoddart. 1974. Subcellular distribution of alanine aminotransferase in leaves of Lolium temulentum. Phytochemistry 13: 1053–1058
003. J L Stoddart, H Thomas, A Robertson. 1973. Protein synthesis patterns in barley embryos during germination. Planta 112: 309–321
002. H Thomas, D P Webb, P F Wareing. 1973. Seed dormancy in Acer: maturation in relation to dormancy in Acer pseudoplatanus. Journal of Experimental Botany 24: 958–967
001. H Thomas. 1973. Gel electrophoresis of ribosomal components from seeds of Pisum sativum. Experimental Cell Research 77: 298–302